Hours & Info
Venue & Hours
National Arena
Bulevardul Basarabia 37-39 022103
Bucharest, Romania
For a map, check out Location & Directions.
Friday, June 3 | Saturday, June 4 | Sunday, June 5
Gates Open: 17:00 hours (first acts 18:00 hours) – 05:00 hours
Minimum Age: 14+
Weather
The festival will take place rain or shine. Please keep up-to-date on weather reports and plan your attire and preparations accordingly.
Zero Tolerance
We have a zero-tolerance policy for drug use and possession. Police officers will be working inside and outside of the event, and all narcotics laws will be strictly enforced. Be responsible, and make smart choices.
Security & Entry
By purchasing a ticket, you agree to submit to a thorough, TSA-style search, including emptying your pockets and bags, having all of your items examined, a full pat-down, and possibly removing your shoes. We reserve the right to refuse entry to anyone.
Ages & ID
You must be 14+ to enter and 18+ for alcohol/VIP. Photo ID required.
ACCEPTABLE FORMS OF ID
Any EU or US government-issued driver's license or ID card containing a photograph and date of birth
EU or foreign government-issued passport containing a photograph and date of birth
Foreign government-issued driver's license/ID with color photocopy of passport (Not valid for 18+ wristband. To purchase alcohol or enter VIP areas, a physical passport or US ID will be required.)
Temporary DMV documents proving you are currently renewing a license—ONLY if accompanied by passport or expired license
UNACCEPTABLE ID
NO School ID
NO Consular ID
NO Birth certificate
NO Expired ID of any kind
NO Photocopy of any ID (except as noted)
NO Temporary DMV license without passport or expired license
Festival Policies & House Rules
Only when a valid ticket in combination with a valid id can be presented, the visitor will be granted a wristband that gives the visitor the right of access to the event. SAGA can only guarantee the validity of the admission ticket when the ticket is bought through a certified ticket sales point acknowledged by SAGA. The received SAGA wristband grants the visitor (re)access only for the day(s) for which the ticket was bought.

 

 SAGA urges all festival visitors to arrive at the festival as early as possible to guarantee fast entry. – The visitor is not allowed to sell the admission ticket at a profit to third parties.

 

 The admission ticket gives access to the event to visitors from the age of 14 and over. Visitors between the ages of 14 and 15 must be accompanied by a parent, guardian or legal representative. Visitors between the ages of 16 and 17 must present signed proof of parental consent (which can be found on the SAGA website). SAGA will deny access to people younger than 14 years old, without the right of redeeming the ticket price. SAGA will deny access to people between the ages of 14-17 not following the abovesaid instructions, without the right of redeeming the ticket price.

 

SAGA is exclusively authorised to designate a platform for the resale of tickets for the event. Reselling tickets via any sales channel other than those designated by SAGA is not allowed. Visitors holding a ticket purchased from an unauthorised source may be refused access to the event. SAGA cannot be held liable for any loss or damages whatsoever resulting from the sale or purchase of a ticket (including the validity of a ticket) for the event via other sales channels than those designated by SAGA.

 

 SAGA has the right to do preventive searches on all visitors, before and during the event.

 

It is forbidden to bring any camera's, spray cans, sprays, selfie sticks, glass materials, plastic bottles, cans, (alcoholic) beverages, food, drugs, flammable substances, fireworks, (fire)- weapons and/or other dangerous objects to the event. SAGA has the right to claim these objects. Claimed objects will not be returned, but destroyed by SAGA or by a third party appointed by SAGA.

 

The visitor is obliged to comply with the (safety) regulations including the house rules and/or directions given by SAGA's staff. The visitor is not allowed to harass other visitors and personnel during the event. The visitor is not allowed to be publically drunk or urinate in places other than the appointed places. It is forbidden to climb in/on any objects at the event venue. It is forbidden to smoke in areas where a non-smoking policy applies.

 

SAGA has the right to capture the event, including image and sound registrations of the event and its visitors.

Capturing the event without prior written consent of SAGA including photography, film registration and sound recordings is not allowed.

SAGA makes every effort to keep the event as consistent as possible with the pre announced time schedule and line-up. The starting-time stated on the admission ticket is without prejudice. SAGA cannot be held responsible for any changes, nor can SAGA be held responsible for the way an artist performs and behaves at the event.

 

The wristband provides your form of payment. The wristband can be charged with money, which can be done at SAGA. Surpluses can be refunded to the visitor at the festival.

SAGA accepts no responsibility and/or liability for hearing damage, sight damage, blindness or other physical damage or damaged goods. SAGA strongly advises all visitors to wear hearing protection during the event.

In case of force majeure, SAGA has the right to change the event date/venue or cancel the event.

 

The visitor is obliged to report any damage resulting from visiting the event within 48 hours of the event to SAGA via: info@sagafestival.com

 

 Visiting the event is at the visitor's own risk.

 

In case the visitor violates one of more of the house rules and/or public order and security – to be decided at SAGA's sole discretion – SAGA has the right to deny the visitor further access to the event, remove the visitor from the event venue, hand over the visitor to police and/or claim compensation. This also applies if a visitor wears or carries clothing, texts or signs which, in the opinion of SAGA, are offensive, discriminating, insulting to or cause aggression or unrest among other visitors.

 

NO Sitting on designated dancefloor areas
NO Moshing, crowd-surfing or stage-diving
NO Unauthorized/unlicensed vendors
NO Unauthorized solicitations, handbills, sampling, giveaways, etc.
Acceptable Items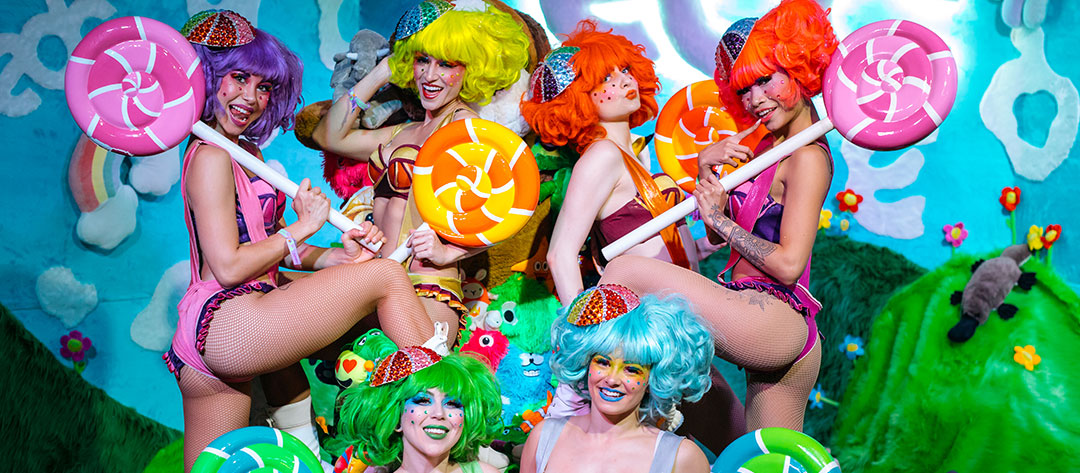 YES Cell phones and portable chargers/external batteries
YES Cigarettes (must be sealed upon entry) and lighters
YES Deodorant (must be sealed at entry)
YES E-cigs/vapes (Refillable liquid chambers OK, must be empty upon entry. One bottle sealed/unopened E-liquid or E-juice will be permitted.)
YES Earplugs
YES Fanny packs
YES Festival totems or decorated pool noodles (see Totem Guidelines)
YES Flags/banners or handmade signs (no corporate/company-branded and no hard flagpoles)
YES Glowsticks & glowing/illuminated costumes or jewelry
YES Gum (must be sealed upon entry)
YES Hula hoops—including LED hoops
YES Hydration packs with no more than two main compartments and one smaller compartment (must be empty upon entry)
YES Inflatables (must be deflated upon entry)
YES Juuls (one sealed Juul Pod OK at entry)
YES LED whips, pois & orbitals
YES Lip balm, lip gloss, and lipstick (must be sealed upon entry)
YES Non-professional flash/still cameras, handheld video devices under 6″ (Sony Action Cam, GoPro, Polaroids, etc.)
YES Personal misting fan with a bottle no larger than 1.5L (must be empty upon arrival)
YES Physician-prescribed medication that is not expired (must show physician's prescription and consult with a safety officer upon entry)
YES Powder makeup (liquid makeup is prohibited)
YES Rain ponchos and umbrellas measuring less than 10″ when collapsed
YES Reusable water bottles (must be empty upon entry)
YES Sealed Hand Sanitizer up to 3 FL Oz
YES Selfie sticks
YES Small bags, single-compartment bags, plush bags, purses (maximum 12″x12″)
YES Sunglasses & hats
YES Sunscreen lotion (inspected upon entry)
YES Tampons and pads (must be sealed at entry)
YES Wet wipes (must be sealed at entry)
Prohibited Items
NO Aerosol products/cans
NO Balls or Frisbees
NO Bota bags
NO Costumes that resemble public safety uniforms (police, SWAT, fire, security, or medical) in any way
NO Drones, remote-controlled aircraft, toys
NO Drugs or drug paraphernalia
NO Eye drops (available inside festival at the general store)
NO Gas masks
NO Glass, cans, cups or coolers
NO Helium balloons
NO Illegal substances
NO Large chains or spiked jewelry
NO Large purses, bags or backpacks (over 12″×12″)
NO Laser pointers and air horns
NO LED gloves or LED microlights used for light shows
NO Liquid makeup
NO Markers, pens or spray paint
NO Massagers
NO Open packs of cigarettes (upon entry)
NO Outside food or beverages (including alcohol and candy)
NO Over-the-counter medication (available inside festival at general store or from a first aid station)
NO Pacifiers
NO Pets
NO Professional photo, video, or audio recording equipment (no detachable lenses, tripods, big zooms or commercial-use rigs)
NO Stickers, flyers
NO Stuffed animals or dolls
NO Tents, large umbrellas, chairs or blankets
NO Toy guns, water guns, slingshots
NO Unsealed tampons or pads (upon entry)
NO Weapon or weapon accessories of any kind, real or fictional (including whips, lightsabers, pocket knives, pepper spray, fireworks, fake weapons/props, etc.)
NO Wind chairs/sofas
Totem Guidelines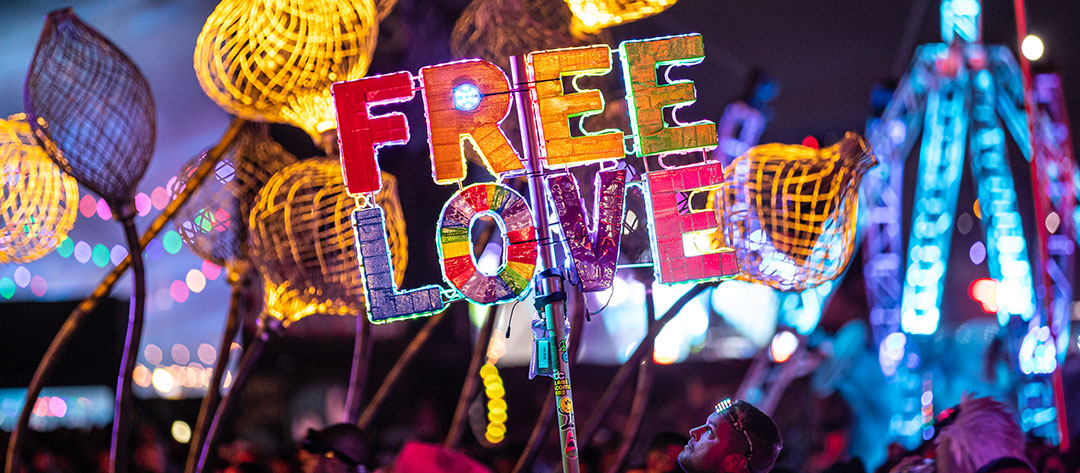 Maximum height is 10 feet.
Totems must be made from a lightweight material (e.g., foam, PVC / no solid metal).
Collapsible/telescoping camera extenders that follow the above guidelines are OK (lightweight/hollow aluminum/polycarbonate).
PVC, light wood or aluminum poles must be no thicker than 1 inch in diameter.
Decorated pool noodles work great for easy entrance through security.
Inflatables attached to totems must be deflated upon entry.
Any item deemed dangerous will not be allowed.
Totems promoting illegal activity or hate speech will not be permitted. Please keep it PLUR.